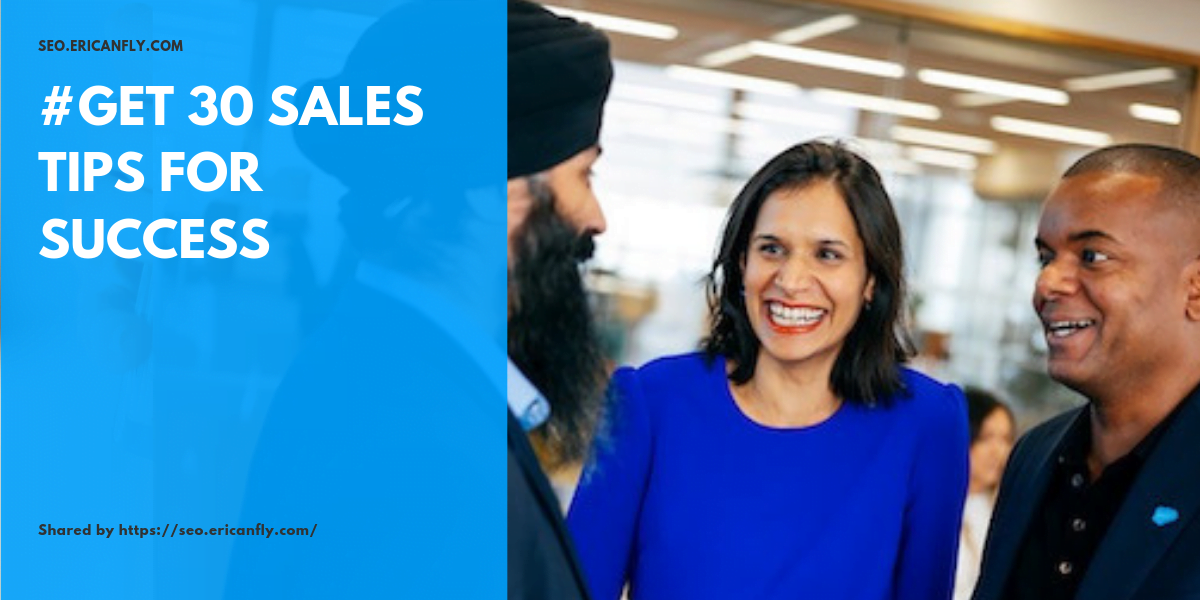 19 Jul

#Get 30 Sales Tips for Success

Editor's note: This article is among our most popular posts, so we've updated it recently to keep things fresh.

Modern customers have changed the rules of sales. Research shows that 69% of business buyers expect an Amazon-like business buying experience — yet only 27% say companies generally excel at meeting their overall customer experience standards. Technology is pushing customer expectations to all-time highs, and sales teams face new frontiers.

So how are the best salespeople staying a step ahead? We asked a range of sales experts — including Salesforce's network of talented guest authors, influencers, and our own sales employees — for their best sales tips.

This article highlights sales leaders' advice on every stage of the selling cycle, from negotiating and pitching to using closing a deal. You'll learn everything in a fraction of the time it'd take to interview all of these experts.
Sales tips for getting to know prospects and customers
"Use 'light' HTML emails (or plain text emails) based on data collected by your automation system to make it appear as though reps are sending personalized, one-to-one emails to each prospect. It's personalization at scale." Mat Sweezey, Principal of Marketing Insights, Salesforce
"Show vulnerability to your customers and prospects. Opening up and showing you're a real person lowers a prospect or customer's guard and starts the conversation." Paula Rainford, Account Executive, Salesforce
"It's not just who you know, but what you know about who you know. Use social networks like LinkedIn and Twitter to learn about your buyers' interests, skills, experience, common connections, shared groups, education, and circle of influence." Jill Rowley, Social Selling Evangelist & Startup Advisor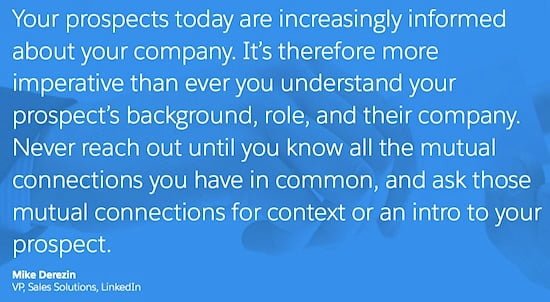 Sales advice for using technology to one-up the competition
"While making targeted, meaningful relationships should be your ultimate goal, analyzing your sales activity data will no doubt reveal certain statistical realities. So if your goal is to close 10 new accounts this quarter, spend an hour to calculate how many calls, emails, meetings and other activities you'll need to get there." William Tyree, CMO, RingDNA
"When reps love their jobs, customers can sense it, and the results are always better. Technology that improves reps' workflow and productivity not only makes them more efficient, but also helps them sell better. When reps are bogged down by trivial tasks, it creates frustration that can impact sales success." Howard Brown, CEO, RingDNA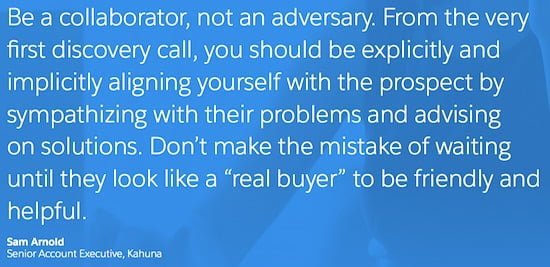 Tips on sales pitches and presentations
"Prepare more questions. Salespeople spend too much time preparing what they want to say to a customer and not enough time thinking of the questions they should ask. The best sales presentations are the ones never given, because the salesperson and the customer are having a discussion around the questions being asked." Mark Hunter, The Sales Hunter
"Start by clarifying each person's priorities prior to starting the demo, and then let them all know you will be pausing throughout to ask for their feedback. Put logical pauses in the demo to stop and ask, 'How do you see that fitting into your existing process?' or 'How does that compare to how you're doing it now?' This is way better than asking, 'Does that makes sense?'" John Barrows, sales trainer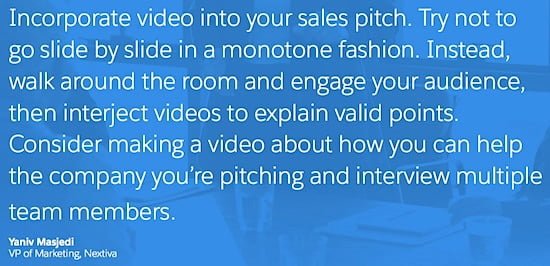 Advice on negotiating prices and contracts
"The fewer dimensions to your communication, the less leverage you have. Email better than texting, phone better than email, video conference better than phone, live conversation better than any of them. Multi-dimensional communication allows you to not only communicate, but read the other side more accurately and quickly to move the deal forward and across the finish line." Matt Heinz, President, Heinz Marketing Inc.
"Don't view pricing negotiations as a battle of wills. View it as finding the right price that mutually benefits both parties. If you've aligned yourself with the prospect as a collaborator and identified how the problem you're solving ties to actual revenue, this should be a short and painless process." Sam Arnold, Senior Account Executive, Kahuna
"Tip for negotiating prices: always start with list prices in your initial proposal. Discounting your products in the first proposal basically says you don't believe your products are worth paying list price for. Never give away discounts, unless you have an upfront agreement with the customer about what you will get in return (usually information on the decision-making process or agreement on dates for signatures)." Jordi Storken, Sales Manager, Salesforce
"During financial negotiations, it's critical you ask a lot of questions and seek to understand the other party before seeking to be understood yourself. The purpose is to dig to the core of their position so you'll understand their motivations and be able to craft a win-win outcome." Kyle Porter, CEO, SalesLoft

Sales guidance on closing a deal
"The fastest path to any decision is a direct one. As salespeople, we have forgotten how to be direct. When you are trying to close a deal say, 'Bob, if you were me, would you forecast this deal to close this month or next?' Don't be afraid to be direct!" Trish Bertuzzi, Chief Strategist, The Bridge Group
"Leverage the administrative assistant as an asset, not a gatekeeper. Assistants know where the bodies are buried, they know their boss's objectives, and they're motivated to help their bosses be more successful. Plus they're far easier to access, speak with, and influence." Matt Heinz, President, Heinz Marketing Inc.
"One of our best sales tips is to make product/service suggestions to customers in our normal course of communication. When we communicate with clients about current orders, or requests (even customer service issues), we add a sentence or two about other ways we can help them. So, for example, when we incorporate a new business, we not only answer the client's pending question, but we also let them know that we can help the client with their annual filing or tax ID. This is a great way to get the client thinking about other services we offer about which they might not have known." Deborah Sweeney, CEO, MyCorporation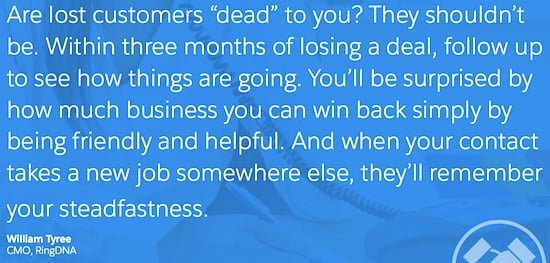 Sales advice for dealing with angry customers
"Vent, Validate, and Value: Avoid trying to solve the problem right way. The customer wants to vent and be heard. Apply real-world acknowledgment of the problem. I once told a customer I didn't blame him if he chose not to work with the company again. Now you can offer solutions and recommendations." Colleen Stanley, President, SalesLeadership
"The best way to deal with an angry customer is to stay calm, listen to their concerns, and give them the best customer service possible. Go above and beyond and do whatever it takes to make them happy. With a little effort, you can turn a person with a negative view of your business into a fiercely loyal brand advocate." Yaniv Masjedi, VP of Marketing, Nextiva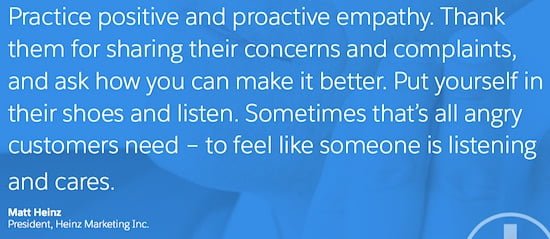 Tips for negotiating a raise or promotion
"When you are at the end of a negotiation, particularly for a raise or promotion, ask, 'Is that the best you can do?' or, 'Is that the best you can offer?' That often leads someone to come back with one or more additional items that you may never have even considered asking for." Denise Brosseau, CEO, Thought Leadership Lab
"Don't wait until you think you deserve to be promoted to talk about being promoted. Discuss your career aspirations with your manager on a regular basis to ensure you're on the same page regarding what you should be doing now to position yourself for a future promotion." Amber Bellaire, Account Executive, Salesforce

Must-have tips for all salespeople
"Certain words and phrases simply have magical powers. The word 'because' is one of them. In a sentence, the conjunctive 'because' triggers the listener's brain to say, 'Oh, the thing I'm going to hear after this word will be a justification for the thing I heard before it,' and the magical way this word works can be a formidable ally in your sales efforts!" David Priemer, Founder and Chief Sales Scientist, CerebralSelling.com
"Multitasking is a completely overrated as a skill. In fact, I believe that multitasking is simply an opportunity to mess up many things simultaneously. The key to success in a sales environment overflowing with opportunity is rigorous prioritization." Nick Hedges, CEO & President, Velocify
"When it comes to most aspects of business, from negotiation to raising funding, you're more likely to get what you want when it isn't something you imminently need. This situation isn't always possible, but if you are able to get time on your side and don't need to use a date (last day of the quarter, for example) as a crutch, you'll be in a much more advantageous negotiating position." Doug Winter, Founder and CEO, Seismic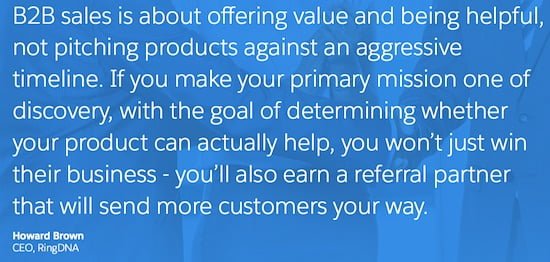 Looking for more information on how the world of sales is changing? Get insights from over 2,900 sales professionals in the "State of Sales" research report.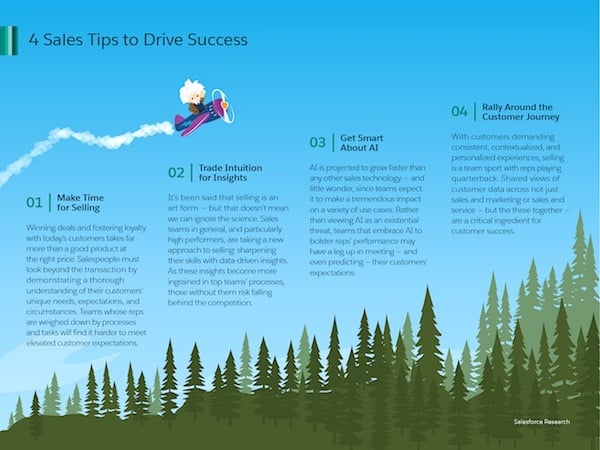 Sources
https://www.salesforce.com/blog/2019/04/sales-tips-for-success.html