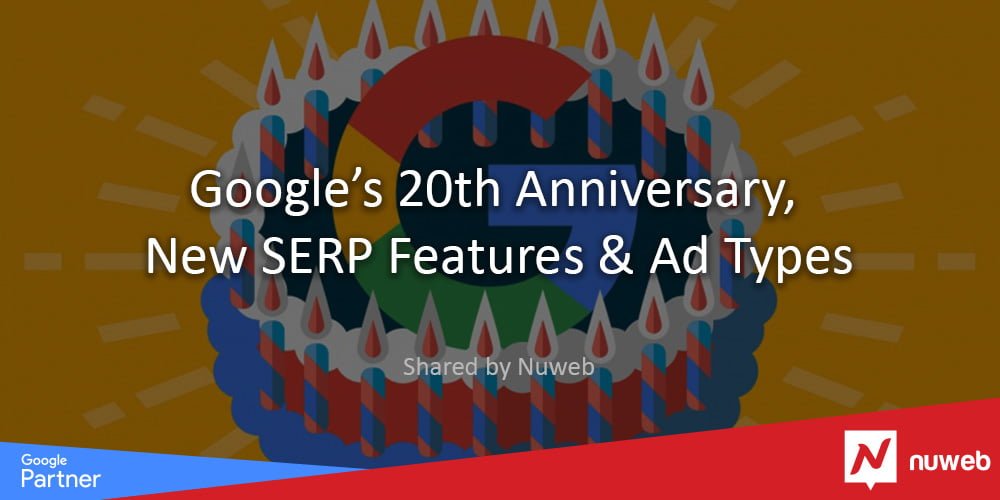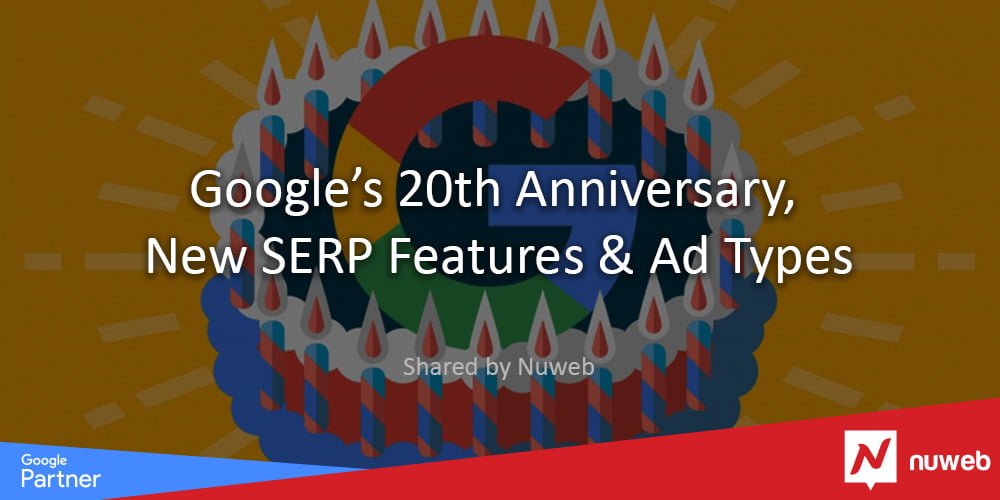 08 Oct

Google's 20th Anniversary, New SERP Features & Ad Types

Google has just turned 20. While some of us were amused by the quirky Google doodle that marked the special occasion, others are thinking about how much the search engine giant has grown and could be focused on what the future may bring. When Ben Gomes, Google VP of Search, took to the stage at Google's future of Search event, it wasn't just to celebrate their 20th-anniversary but to paint a picture for the future of search and how Google will be working to "make information more accessible and useful for people everywhere."

So let's jump in and see how the latest updates from Google reflect that vision. Also, tune in to our Search Marketing Scoop podcast, where James Svoboda, the CEO at WebRanking, and Elliot Kemp from Hanapin Marketing are discussing all these updates in greater detail.
GOOGLE SEARCH NEWS
New SERP Features
As Google marks its 20th anniversary, it announced a number of new search features that are in sync with Google's mission to provide greater access to the world's information. As per the update, the next chapter of search will be driven by three fundamental shifts in how Google thinks about it, namely:
The shift from answers to journey to help users resume tasks where they left off.
The shift from queries to providing a queryless way to get to information.
And the shift from text to a more visual way of finding information.
Some of the core principles of search that have been (and will remain) unchanged were also reiterated in the event. These include user-focused approach, most relevant and highest quality information, algorithmic approach to providing search effectively, and rigorous testing of new changes and search updates.
Testing Future Opening Days in Google My Business
Damian Rollison, VP of Product at Brandify, reported that Google is testing live business listings with a notation indicating the date when the location will be open for business. Previously, Google only allowed an "open date" field in Google My Business to show the date in the past when a business first opened. However, the search engine is now allowing companies to add not-yet-open locations with an option to include a future date when the business will be open.
Source: Google My Business Testing Future Opening Dates in the Local Panel for New Businesses
Testing Sub-Images in SERP Sitelinks
Google seems to be testing a new snippet for mobile search results that features image thumbnails for the sitelinks that are directly below the main snippet. The images in the sitelinks carousel are placed right next to the sitelink text, as shown on the screenshot given below. Although using images in snippets is normal, we are seeing these in the sitelinks for the first time.
Using Neural Matching to Understand Synonyms
Neural Matching is a technique Google uses to better understand synonyms. It is an AI method that helps connect words to concepts. Google's Danny Sullivan says it is currently "impacting 30% of search queries". This technique has also been discussed at Google's 20th-anniversary press events where Ben Gomes, VP Search, talks about neural networks, neural embeddings, and other neighboring concepts that help transform words to fuzzier representations of the underlying concepts and then match the concepts in the query with the concepts in the document. So that we can "address queries like: 'why does my TV look strange?' to surface the most relevant results for that question, even if the exact words aren't contained in the page. (By the way, it turns out the reason is called the soap opera effect)."
Source: Google Begins Using Neural Matching to Understand Synonyms, Impacting 30% of Queries
Image Search Revamped
Google has announced introducing three fundamental shifts in how they think about Search. Elaborating on how Google is going to make visual content more useful in Search, Cathy Edwards, Director of Engineering at Google, mentions that the search engine is now beginning to use AI to intelligently construct AMP stories (open source library that anyone can use to create a story on the open web) and surface this content in Search. This format is going to provide a new way to discover content from the web. Cathy has also announced several other new features that will help users find visual information more easily and "pursue activities where having a visual reference is important."
New Type of "People Also Ask" Suggestion Box
The "People also ask" suggestion box is a regular feature on desktop results, but it now appears to be showing on some mobile results, with the first suggestion item pre-expanded. Eric Hedekar, a research analyst from STAT Search Analytics, seems to have first noticed and talked about it on Twitter. Here's what he says: "Looks like Google is testing pre-expanding the first People Also Ask box on some mobile results. I'm seeing it most often on definition-style SERPs upon first inspection."
Source: Twitter
Google Feed Update
The Google feed is going through a significant update. Karen Corby, Product Manager at Google Search, announced that the update is part of the three fundamental shifts in how Google thinks about Search. The update includes a new name, a fresh look, and a brand new set of features. About the name, Google feed will be replaced by "Discover" moving forward. Furthermore, a fresh design is also being rolled out that will make exploring easier than ever.
Additional features included in this significant update include new types of content (videos, fresh visual, and evergreen articles and blogs), more control and context around user interest, multiple languages, and Discover's availability for mobile browsers on google.com.
GOOGLE ADS NEWS
End of Cryptocurrency Ads Ban
Google has decided to lift the ban it had put on cryptocurrency ads this past June. Accordingly, cryptocurrency advertisers will be able to run ads on Google's advertising platforms starting in October. The ban on cryptocurrency (and related product) ads took effect to ensure that any potential harms to Google users are mitigated. However, it appears that the search engine has found a way to deal with the problem, while still allowing cryptocurrency advertisers to run their ads. It's to be noted, however, that the ban is going to be lifted on ads for cryptocurrency exchanges only.
Source: Google to End Ban on Cryptocurrency Ads
New Ad Types in Google Shopping
Google has recently announced the launch of a new ad type called Video in Showcase Shopping ads. It is an extension of the Showcase Shopping ads they had launched last year. The new ad type allows you to upload multiple images to a single ad and amplify its impact by adding relevant promos, descriptions, products and beautiful imagery.
To help advertisers attract even more customers, Google also announced another ad type called Shoppable Image ads that will be featured on third-party sites (Google's publisher partners). With Shoppable Image ads, shoppers can click on the tag icon in an ad they see on a third-party site, and a selection of visually similar offers will pop up for them look through and select.
Using Smart Bidding for Search Partner Sites in Google Ads
Starting in October, Smart Pricing will switch to Smart Bidding for search partner sites that have Google's conversion tracking in place. Google believes that the new bidding strategy will provide "better performance by using a wider range of contextual signals to optimize bids for each and every auction." As far as the cost per conversion is concerned, Smart Bidding will apply a similar CPC as Google Search, however maximizing conversions on search partner sites.
Sources: Smart Bidding to Be Used for Search Partners; Google Ads Switches to Smart Bidding for Search Partner Sites
New Reports and Metrics in Display & Video 360
Luke Hedrick, Senior Product Manager, Display & Video 360, at Google, announced some new capabilities in Display & Video 360 that will help measure the performance of display and video ads against custom metrics like viewability, reach, and brand lift across media sources and properties. The custom metrics in Display & Video 360 will enable advertisers to select custom criteria for their ad campaigns such as "the percentage of the ad that must be on screen and the amount of time an ad must be visible to count as an impression." Besides, Google is also launching Unique Reach reporting in Display & Video 360 and extending Brand Lift measurement beyond YouTube to include all the other video advertising. All of these changes and updates will help marketers access the information they need to create "more relevant, useful, and impactful experiences for consumers."
Source: New Ways to Measure from Impression to Impact in Display & Video 360
Account-Level Call Statistics in Google Ads
Google announced rolling out a new account-level call reporting update for Google advertisers. In the next few weeks, advertisers will be able to set up call reporting at the account level. There will be just one toggle for the entire account, making it quite easy to remember and enable the reporting for all call extensions or call-only ads within the account.
Source: Use New Account-Level Call Reporting to Ensure You're Fully Measuring Call Performance
GOOGLE TOOLS NEWS
New Functionalities in Google Optimize
Google announced adding three new features to Google Optimize. With the following new features added, running, managing, and measuring site tests have become easier:
Email notifications on important experiment updates.
Easier reporting with a new analytics dimension.
Scheduling experiments to provide more control over organizing your test schedule.
Google hopes that these new features in Google Optimize will help site owners improve their websites' performance further by allowing them to run site tests in a more effective way. In addition to running website experiments with Optimize, users can also create custom website experiences that deliver the right message to the audience, every time they visit the site. Webmasters can now use these features to create better, more personalized experiences to their customers.
Sources: New Ways to Manage and Measure Your Experiments in Google Optimize; Personalization Features Now Available in Google Optimize
Data Studio for All Users
Google's free data visualization and reporting product, Data Studio, is out of beta and is generally available for users now. Data Studio is part of Google Marketing Platform which is designed to help teams identify and share insights from data with the potential to impact business outcomes. The product is integrated with Google cloud, and it allows users to easily access data from a variety of Google and non-Google data sources, including Google Ads, Google Analytics, Search Ads 360, YouTube Analytics, Google Sheets, Google BigQery and over 500 more data sources. As per Google, "beyond just sharing, Data Studio offers seamless real-time collaboration with others — whether you're sitting across the room, or across the world."
Event Markup Report in New Search Console
Google has added an event markup report to the Google Search Console called rich result status report. The report appears to be showing information about rich results that Google could or couldn't read from a website, troubleshooting information for errors, as well as a recrawl request option after fixing issues. However, Google mentions showing a rich result report for a given type only if the search engine finds rich results of that type on a user's site.
Sources: Google Developers; Google Search Console Adds Event Markup Report & Sends Notices; Twitter
BONUS NEWS
Google Turned 20
2018 marks the 20th anniversary of Google, and they commemorated the event in a true 'Googley' fashion. The search engine giant goes a step further to explain how everything they have been doing for the past 20 years was done with the users in mind. An official doodle page was also rolled out for Google fans. The page contains a link to the 20 notable doodles from the last two decades, a drill down on country-specific doodles around the world, and a collection of other interesting tidbits worth exploring.
As part of the official announcements, a blog post was also rolled out by Emily Wood, Editor-in-Chief at Google, that talks about how the search engine giant has remained committed to pursuing its core mission to organize the world's information and make it universally accessible and useful for all. From finding answers to making valuable connections to giving people tools and platforms to grow, Google has been doing all it can to make an impact on a global scale.
Sources: Google Doodles; Twenty Years of Building for Everyone; Google Maps; Google celebrates its 20th birthday: A look back on 2 decades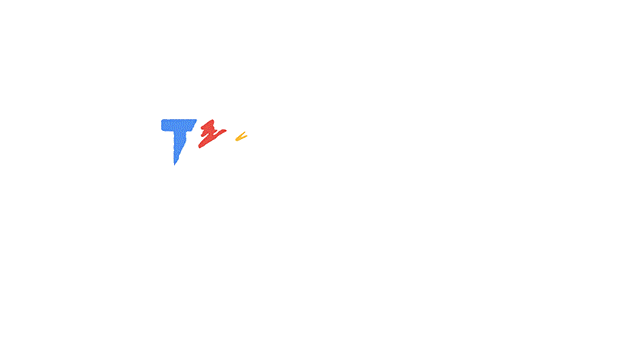 Source: https://www.semrush.com/blog/google-news-digest-google-20th-anniversary-new-serp-features-ad-types/