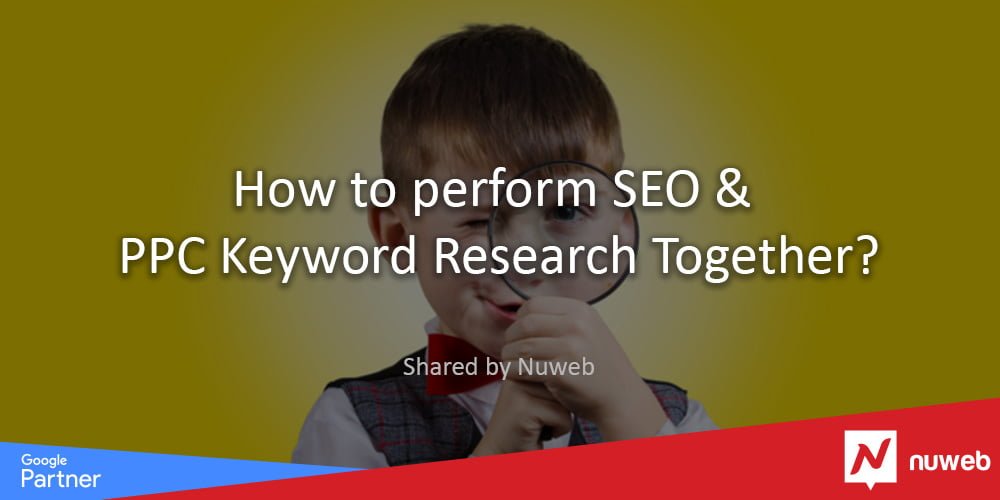 12 Dec

How to perform SEO & PPC Keyword Research Together?

A well-orchestrated PPC campaign can benefit a good SEO campaign, as Sergey Grybniak explores in How to Combine SEO & PPC for More Powerful Results.

I love it when a potential client comes along who already has an active PPC campaign.

To me, this means two things:
They're a serious business, investing money in digital already and are likely to appreciate and understand the "marketing mix."
They already have had, at some level, keyword research done for the campaigns and have data on what is/isn't working.
This is why I'm confused when SEO pros don't like working with clients who do PPC.
Both sides can win. And when both sides win, the client wins.
We can learn a lot from analyzing each other's data, cohesion, and from respecting the different margins of error.
Whether it's SEO or PPC, we both use the same search phrases, the same tools, and the same Google SERPs, just in different ways and from different perspectives.
Search Intent Versus Search Volume
Over the years, SEO professionals have used PPC tools (e.g., Google Keyword Planner) to do keyword research.
Search volume has become a common metric included in pretty much every keyword research document. It's also a metric known by many clients who have a basic understanding of SEO.
I think that search volume is great to establish what some of the bigger marquee terms are, especially when you're just starting to work in a sector or vertical that you haven't previously worked on.
However, search volume is only one metric to take into consideration when optimizing a page or bidding on a keyword.
What's far more important?
Intent.
Why?
Because there is little point in ranking for a 50,000 search volume keyword if the intent is knowledge discovery.
You'd be better off targeting a 10,000 search volume keyword if the intent is commercial and "to buy."
This is something I've seen too often in client PPC campaigns.
One example of intent not being catered for came from a UK-based client I worked with who sold language courses.
In their PPC campaign they were bidding on phrases like [translations english to french], which in the UK has an average monthly search volume of 110,000 (according to Serpstat).
They weren't the only company to be bidding on the phrase, but when you look at the anatomy of the SERP you can gain some insight into the intent behind the query: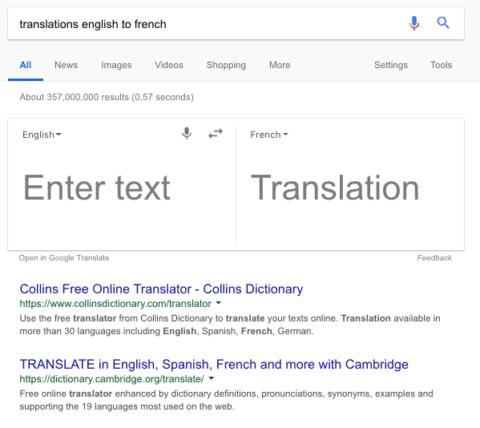 The first and most prominent feature is Google's own translation tool – with translate.google.com ranking in 4th.
From a glance at the SERP, there are no commercial results or paid services ranking on Page 1.
From this, we can assume that Google understands that the user isn't looking for a paid service offering for content translation, but a DIY tool to perform the translation themselves.
When we looked at this specific keyword within the campaign, it gained a lot of impressions and a small number of clicks – but wasn't leading to any soft (or hard) conversions we could attribute.
So we advised to stop spending money on that keyword.
How Many Users Really Search for Specific Keywords
I'm also cautious when using search volume as a primary metric when working with keywords because the data from Google Keyword Planner is heavily rounded, and gives the "average monthly search volume."
That the data isn't always accurate.
Some keywords in Keyword Planner may show as having a search volume of 10, but in Search Console and Ad campaigns you may see 100+ clicks/impressions.
Different sources also give different numbers.
For example, let's take the search phrase [search engine journal] and the data for Google.com: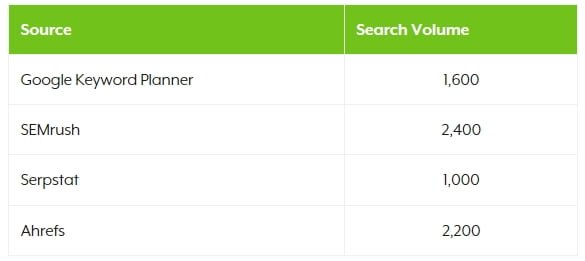 Using this data, four PPC professionals could put together PPC campaigns using four industry tools – and come to four different answers.
This is why it's important to blend data from a number of sources, including data from your Google Search Console account.
Here's another example, [harlequin wallpaper], using UK data from October.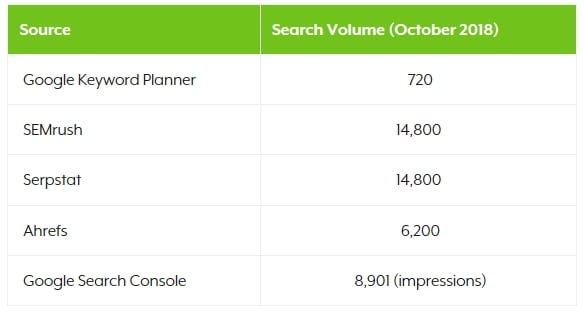 So with this keyword, there is a big difference in the data being reported by the two different Google products, and the third-party tools.
However, by blending all of the data together (as well as understanding that the keyword in Search Console showed an average ranking of around #5), we can assume that it's likely the Serpstat data that is correct.
In other scenarios, the data from your Google Search Console can help you identify search phrases that the other tools do not.
If the site is ranking on Page 1 (at least position 6 plus) for a specific keyword, the impressions data could uncover a hidden gem that no one else is bidding on because the search volume is being under-reported by Keyword Planner and other third-party instruments.
Competition in PPC Isn't Competition for SEO, But Can Highlight Opportunities for Both
It should be a given, but I've seen this written in SEO reports, but low keyword competition doesn't mean low SEO competition.
Tools like SEMrush have muddied these waters over the years by being an "SEM" tool, providing data for both PPC and SEO practitioners in a single report.
Low keyword competition in Google Keyword Planner typically means that the keyword results are too generic and have multiple common interpretations, and not always viable to include in an effective campaign.
However, if you come across keywords marked as having low competition in your PPC research, but are sought after by the SEO team and their research, they could present a low-cost bidding opportunity and drive relevant clicks and traffic to the client website.
This thought process also works the other way around. In PPC data keywords, competition is high because they drive traffic and conversions, otherwise advertisers wouldn't compete as much for them.
Competing for these keywords in the long term, from a PPC perspective, could be costly.
But by highlighting this to the SEO team, they can establish what it takes to rank for those terms organically and put in place a strategy to relieve some of the long-term (and costly) burden on the PPC channel.
Source
https://www.searchenginejournal.com/seo-ppc-keyword-research-working-together/277353/