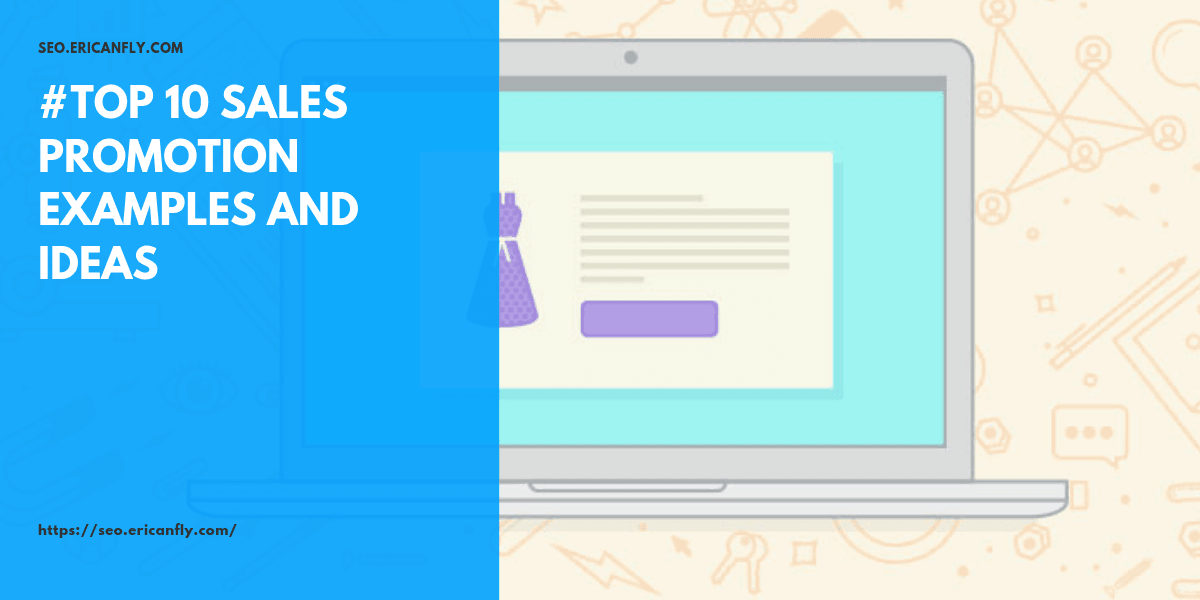 16 Jul

#Top 10 Sales Promotion Examples and Ideas

Most online stores include a sale section where customers can score the best deals. There are a group of rebels, who choose to never put any of their products on sale, who never host sales as their marketing strategy.

But for most store owners, sales help you convert better. There is a lot of psychology around how to discount your products. For example, offering a buy one get the second 50% off may be more effective than a higher discount on one product even if the price value is the same.

Because the perceived value isn't the same. Also, the layering of discounts can be more valuable to a customer than one big discount. For example, offering a second discount on a product that's already been marked down may be perceived as more valuable than one discount of the same total value. When hosting a sale, offering a combination of a discount incentive with a buy one get one (BOGO) free deal can be powerful at increasing sales.

Sales Promotion Example: Pre-marketing a product can help it launch successfully. Threadsense has a 'Presale' section on their online store to promote products before they launch. They test their products online before selling them in brick and mortar stores. It helps customers feel like they got early access to great products. This works really well for those who sell in brick and mortar stores and online. For example, you can do a presale online to test the market and launch the product in stores if it performs well. It also works well for dropshippers if you want to test products to determine their popularity.
---
Sales Promotion Examples and Tips:
Otte New York divides their sale section by discount. All their sale products fall into either 30% off, 40% off, 50% off or 70% off. Customers looking to find the best deal will likely check out the items with the higher discount first. Keep in mind that Otte also divides the sale section by product category to allow the customer to easily find a deal on the type of product they're looking for. Having a combination of price and product category helps cater to different types of customers: those looking for a deal and those looking for something specifically.
Ript Apparel has a Daily Deals section on their website. Each day, they present three new products at a discounted price. They use urgency to drive their sales as they expire within 24 hours. By hosting a sale each day, it helps encourage people to keep coming back to the site to find a great deal. By changing the products each day, it keeps the content fresh so people want to come back the next day.
On Miss Selfridge's sale section, their best selling items have a 'Selling Fast' or 'Black Friday Offer' icon on it to help create urgency. If you have items on sale, adding an icon for your best-sellers can help boost the performance of your sale. Since the products are already deeply discounted, it gives it an extra push to encourage the sale from the customer as customers may experience a fear of missing out (FOMO).
Svelte approaches their sale section differently than most brands. Above the product photo, there's a filter that tells you how much you'll save if you buy that product. When you hover over the product, you see how much the product actually costs. While it's unclear whether this is an effective method, it may be worth testing out on your own store.
Ryder offers a student discount: 10% off. You can pair up with a student discount card to attract students to your brand. Getting your brand featured on the card can be difficult if you're starting out. However, once your brand starts to grow in popularity you increase your chances of being included. The great thing about marketing to students is their large network of friends who they can promote your brand to when showing off new purchases.
Victoria's Secret includes a 'Today's Offers' tab on the bottom middle of their website. Customers can scroll left or right to find out what the daily deals are. It sometimes includes the free shipping threshold, discounts on certain collections, bundling deals, limited edition collections, and freebies with purchases on certain products. This allows customers to conveniently learn of all the promotions in one place.
Daily Steals has a free plus shipping section on their website. While some advertising platforms may not allow you to run free plus shipping ads, for now, you can still have the section added on your website. Keep in mind that the shipping cost needs to be realistic for the customer. Charging $19.99 for shipping a pair of earrings is too high. Also, free plus shipping methods can appear deceptive since the product cost isn't actually free but incorporated into the shipping cost. However, Daily Steals shipping costs seem pretty legitimate. When testing various products, on average, the shipping cost was $4.99. Unfortunately, when it comes to your product margin, free plus shipping products can eat away at them pretty quickly. Ultimately, testing out its effectiveness on your store will let you know if it's worth having.
Giving your customer a product discount doesn't need to be exclusively a cash rewards. You can offer free shipping, a buy one get one (BOGO) free deal, a percentage discount such as 30% off or a price discount such as $10 off. You need to determine which works best for your audience. You can also do a combination of them such as free shipping, percentage discount and the occasional BOGO deal. However, a free product may be more enticing than a product discount because they gain something.
The length of your sale matters. If you always have a sale running on the same products your urgency won't be effective long-term. You can host flash sales on your website that always feature different products. Or run a sale on a different collection each week. However, if you're always running the same promotion on the same products you may eventually lower its effectiveness. Aim for under a week. If it's a long weekend, you can do a three day sale. If it's a flash sale, you can change your products each week. If you want to create urgency create a sale that lasts 24 hours.
---
Sales Promotion Tools:
Free Gifts by Secomapp allows you to create special offers on your store. For example, if you want to run a Buy One Get One (BOGO) promotion, you can use this app. You can also run promotions such as 'buy (product) get 50% off (another product). Or buy a product and get a free gift. During the holiday season, you might offer a 'free gift' with purchase such as a bracelet, a low cost product. You can also run promotions such as 'buy 3 get one free' or 'spend $150 and get a free gift.' When it comes to running sales and promotions on your store, this is one worth considering.
Spin-a-Sale is an exit intent discount spinner. Your visitors who fail to make a purchase as they exit will receive a pop-up where they can spin to win a discount to entice them into purchasing. It's almost like a surprise sale for the customer browsing the site that day. They won't be able to trigger the spinner every time which helps create urgency when they do see it popup.
Countdown Cart by Beeketing helps create urgency on your product pages. If you're running a sale on your store, a countdown timer can help drive more conversions by showing that the sale ends soon. Getting customers to buy at your sale price is easier when they see a countdown timer as it can make them experience a fear of missing out.
Product Discount by Bold is the ultimate sales app. It allows you to run daily deals, add a countdown timer to create urgency, and schedule sales for special occasions, holidays and more at $14.99 a month.
Student Discount Sites: UNiDAYS, Student Price Card,  Student Advantage Card and International Student Identity Card are a few of the most popular discount programs for students. Students purchase cards for a low price to get discounts from the most popular brands. If you're looking to target a younger crowd, this may be a great way to find your target audience.
---
Sales Promotion Resources:
The Guide to Successfully Running a Flash Sale covers everything from whether or not should run on and its effectiveness on sales. Spoiler Alert: it helps increase them! But is it profitable? And can running too many flash sales affect your business long term? You'll find it all in this article.
Black Friday Marketing details various sales promotion ideas for big events like Black Friday. The ideas aren't exclusive to the big holiday sale and can be implemented throughout the year for various other promotional activities.
Sources
https://www.oberlo.com/ebooks/get-sales-dropshipping/sales-promotion/amp