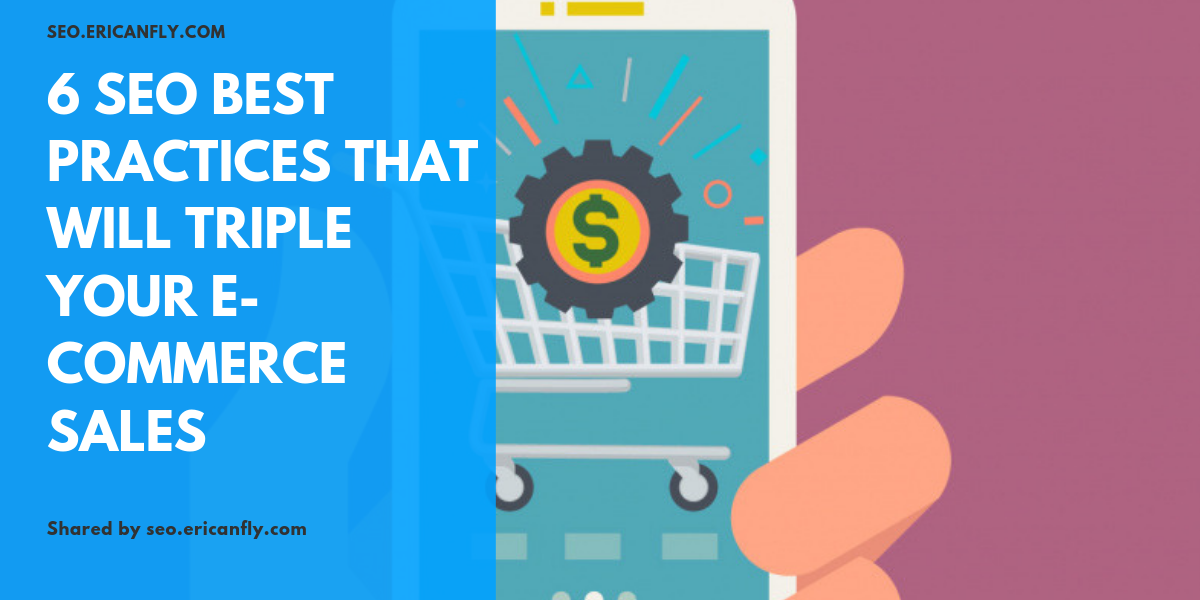 25 Apr

6 SEO Best Practices That Will Triple Your E-Commerce Sales

Why should you implement SEO best practices to improve sales in your e-commerce?

According to statistics from Fortune, Google and Facebook hold the largest share of the digital ad market, splitting 2015's advertising revenue of $60 billion into $30 billion for the search engine giant and $8 billion going to Facebook.
This means search engine optimization determines the growth of any e-commerce business in 2017 and beyond.
For a business which relies on search queries and organic traffic to make sales, reports from Selz show that 44 percent of online shoppers begin with a search engine.
Therefore, ignoring SEO will result in a slow death. Don't be fooled, optimizing an e-commerce store for search engines such as Bing or Google can be a little complicated but achievable.
Fundamentally, SEO for e-commerce stores makes the site easy to crawl, show keywords you want to rank for and exhibit authority through content and backlinks.
Which leads us to discuss SEO best practices that triple your e-commerce sales when implemented.
6 recommendable SEO best practices to triple your sales
1. Use Unique Title Tags for Product Pages
One mistake found among large e-commerce stores is duplicated title tags.
Title tags must be unique to each product page to entertain search engine attraction.
To find title tags for any webpage, press CTRL + U in your browser.
For product pages from the same manufacturer, creating unique title tags can be daunting as you might have to repeat keywords.
An effective solution not to duplicate keywords and title tags is using unique key phrases, not keywords.
Online shoppers punch key phrases into search engines to get their desired results and optimizing your product pages with these phrases allows you to rank easily for such phrases.
For retailers in the automobile industry, a title tag formula which works perfectly is the "Brand – Model – Item Type."
For example, a title tag for a product page can be "Porsche Panamera 4s 2016."
To maximize the use of title tags, keep the length under 70 characters (to avoid truncation in SERPs), place your key phrase at the beginning of your title tag as search engines place more importance on the first key phrases.
For instance, at Chameleon John's Target coupons page, key phrases ("15% Percent Off") are placed at the beginning of the title tags telling search engines to place more importance on the key phrases.
So when users punch in such queries, that page can rank easily for it.
2. Permanently 301 redirect Expired Product URLs
A permanent 301 redirect is useful for redirecting a page to a detour page.
They are very important for SEO because they allow you to inform search engines where your old content has moved to.
With a 301 redirect, all the qualities of the redirected page, such as PageRank, page authority, traffic value, MozRank, etc., are moved to the detour page.
This helps to remove the old page from the search engine index and it will be replaced by the new one.
When you fail to redirect a page for either an expired product, a moved content or a change in link structure, search engines will find your 404 Not Found page instead when visitors click on your link, resulting in loss of traffic, ranking and link juice.
All the link equity of an expired page is lost with a 404 Not Found page.
For SEO best practices, redirect your expired product URL to a similar product page or a dynamically generated message page.
This will help to enhance users' experience, as well as helping you to retain most of the link equity through a 301 permanent redirect.
According to Susan Esparza at BruceClay other uses of permanent 301 redirects include:
Redirects users and bots from the old location of a given web page to the new location (URL)
Automatically redirects visitors from an old domain to a new domain
Automatically redirects users from alternate TLDs to the main TLD (usually the .com)
Corrects canonical issues such as: www vs. non-www, Index.* to /
Keeps unauthorized users and bots from accessing live development environments, redirects them to the main site (IP-specific delivery)
3. Tweak and Optimize Category Pages With Keywords
Category pages are more important than individual pages and posts. They should be optimized to appear first in the search engine results.
For instance, an e-commerce site that sells luxury watches should not optimize every product page for "luxury watches." Otherwise; they will all compete for the keyword "luxury watches."
Instead, you should use a keyword planner and optimize individual pages and posts for their specific brands and models and link them all to the "luxury watches" category pages.
That way, the category page will rank for "luxury watches" while the product pages can rank for more specific terms.
This will make the category pages prevent the individual pages from competing for the same keyword.
To attract more traffic to your e-commerce category page and more visitors to your sales funnel, it's important to optimize your category page with the following techniques:
Keyword in the image ALT and file name
Keyword in your H1 tag
Keyword in your page description
Keyword in your page title
SEO permalinks
Use LSI keywords throughout the post
4. Mobile Friendly with a Twist
Information emerged on Friday, November 4th, 2016 that Google has started the "mobile-first indexing of the Web."
What this means is that Google is beginning to index the mobile version of websites when available, to examine mobile pages against ranking signals to decide how a site should rank in both desktop and mobile search results.
This development means that information about your mobile site (contents, page speed, structured data, Meta tags, etc.) as opposed to the desktop version, will now be used to determine both your desktop and mobile ranking in Google search engine.
According to Google, the rationale behind this development is that mobile searches (on tablets, smartphones, and some e-readers) have overtaken desktop searches for quite some time.
To ensure your website is deemed mobile friendly by Google, it must have the following features:
Your website must avoid software, like Flash, that is not common on mobile devices
The text used by your website must be readable without zooming
Your website content should be sized to the screen to ensure that users don't have to scroll horizontally or zoom to read
Lastly, any links on your website must be placed apart far enough so that the correct one can be easily tapped
Bing, like Google, is getting to reward sites that are mobile friendly.
Ignoring these requirements will cause your e-commerce store to go missing in SERPs, and frustrated users who are unable to view the contents of your site will move on to the mobile friendly websites of your competitors.
5. Implement Schema Markup to add Rich Snippets to Product Pages
Implementing Google's rich snippets into your e-commerce store increases the visibility of your products, provides more details for customers to click through SERPs and ultimately drives revenue.
Schema markups enable search engines to understand your product information and display such product information in SERPs, increasing CTRs to the product page.
Common rich snippets include reviews, events, softwares, products and recipes.
According to Google, rich snippets do not increase ranking in SERPs, but help search engine crawlers to understand your content and display comprehensive information in SERPs.
The following schema markups should be implemented into any e-commerce site in need of organic traffic and doubling click-through rates:
Optimizing your product information into markups helps search engines understand they are crawling a product page and not a blog post.
Using markups for product pages allows you to provide details of your product color, sizing, model number and related products.
When searching for products, we often come across product listings with their prices right under them, especially from stores like BestBuy, Apple and Amazon.
Schema markups help you educate visitors on the pricing of your products right from SERPs allowing for more click-throughs.
The use of testimonials has proven to be more effective in closing sales than page copy or content. Including rating and reviews in SERPs through schema markup serves as social proof and aids in converting visitors into customers.
E-commerce sites with rich snippets enjoy more click-through rates and conversions from SERPs compared to stores with no schema markup.
6. Optimize Product Page Permalink and Structure – Use Breadcrumbs on all Pages
Search engines crawl permalinks to understand the content of the page, making it imperative to use permalinks that are self-explanatory to the crawler.
For e-commerce stores, examples of self-explanatory and effective permalinks can be found below:
Product Category page: https://www.store.com/category/
Product sub-category page: https://www.store.com/category/sub-category/
Product page: https://www.store.com/category-sub-category/product-name/
A bad site structure or navigation can hurt your user experience, leading to high bounce rates, cart abandonment and finally lower rankings.
When building or reorganizing your site structure, ask yourself the following questions:
What pages will get the most traffic?
What search queries do visitors use before visiting your site?
Keep in mind, search engines cannot understand nor find your navigation if it's not in HTML — so whatever navigation styles you decide to use, make sure it's in HTML.
Finally, use breadcrumbs on all product pages to help visitors understand where they are situated on your site.
For effectiveness, use location-based breadcrumbs as this shows the visitors and search engine crawlers the present location compared to the whole structure of the site (and this is shown in SERPs increasing CTRs).
Sources
https://www.semrush.com/blog/seo-best-practices-ecommerce-sales/