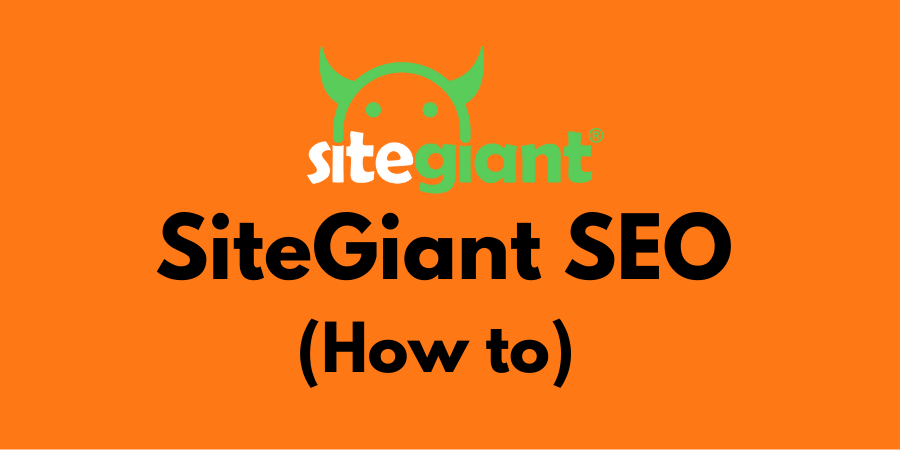 02 Jan

How to use seo on SiteGiant?

What is SiteGiant?

SiteGiant is one of the largest stores in the ecommerce marketplace that lets you manage your online business and social commerce! This is an e-commerce platform that is utilized by Malaysian sellers to automatically manage and process various markets such as Shopee, Lazada, Lelong, Qo100, as well as your social business such as Facebook and Instagram.

Tip 1: Use a Product Name That Is Meaningful
Don't use the same name for all of your items only to describe what they are in the product description. If you do this, all of the links and content on your site will seem the same, and search engines will be unable to discern between them. Instead of a useless code, give your product a meaningful name.

Tip 2: Avoid Product Descriptions from Manufacturers:
It's tempting to simply copy and paste from the manufacturer's website, but avoid the temptation. At the very least, rewrite the description to make it more engaging and distinct.

Tip 3: Make your title tags stand out.
While it is disputed whether the firm name should be at the start of the title tag, most experts agree that you should not include extra keywords that are repeated in every tag. For example, if your firm name is "ABC," put simply that word in the title tag, rather than "ABC Website Solution." Use as little duplicate material as possible to avoid diminishing the value of the rest of the title tag text.

Tip 4: Use Distinctive Description Meta Tags
Every product page's meta tag description should be completely unique. This ensures that each product page has distinct content. Though meta content is unlikely to have a direct impact on your ranking, unique tags will help you avoid duplicate content penalties. In the meta tag description, you may insert a short description.

Tip 5: Product Reviews
Displaying user created material from your consumers is an excellent approach for ensuring original content. Allow consumers to evaluate things they've bought or remark on those they haven't.

Tip 6: Build Backlinks to Your Website
The more high-quality sites that link to yours, the more relevant your site will appear to search engines, potentially improving your site's rating in search results. How can you get other websites to connect to yours? Contact businesses that are connected (but not competing) to yours and request a link exchange. Read and participate in popular forums that correspond to the subject or interests of your website – many will allow you to post links to a website in your forum signature. Request that local groups, such as your Chamber of Commerce, put links to your company's website on theirs.

Tip 7: Maintain Your Site's Freshness
Content that is often updated tends to rank higher in search engines. Update your website with latest business news, articles or advice on your products or services, and anything else that will make your website a destination for readers who may become customers. Publish client testimonials or favorable evaluations of your company in different publications (with links to those reviews). Above all, make certain that your material is clear, that every word is spelled correctly, and that all of your links work. The more professional your website seems, the more probable it is that potential clients will select your company over your rivals.