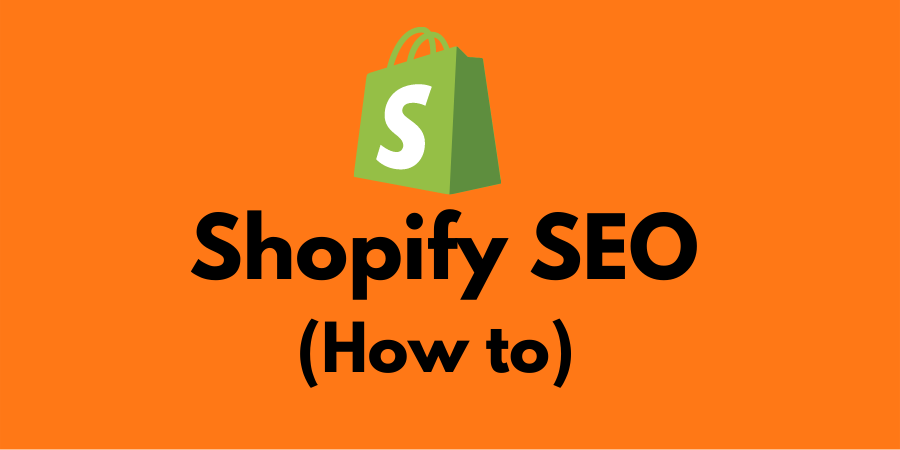 06 Jan

How to use seo on Shopify?

Search engine rankings have a significant impact on how easy customers can locate your store. The higher your eCommerce store ranks in search engine rankings, the more visitors it will receive. This, of course, leads to higher sales.

So, how can you improve your ranking?

Search Engine Marketing (SEO)

Is Shopify's SEO effective?

Shopify has numerous SEO-friendly features out of the box, but there's so much more you can do to improve your position. While SEO is heavily reliant on keywords, getting your site to rank higher requires more than merely sprinkling some keywords into your site's content.

Step 1: Optimize the Structure of Your Shopify Site
The organization of the material on your website is critical to SEO performance.

When customers can discover what they're searching for quickly and easily, they tend to spend more time on your site and visit more pages, which can benefit your search engine rankings.

How can you make your website more user-friendly?

Simplify. Don't use too many categories and subcategories.

A more straightforward site structure makes it easier for search engines to crawl and rank your items.

A minimal, SEO-friendly web layout may look like this:

The graphic shows that your items are only a few clicks away from your homepage, making it easy for customers to locate what they're searching for and for search engines to scan the site.

Using one of the following structures, you can easily organize your content on Shopify:

Homepage » Category Pages » Product Pages

Homepage » Category Pages » Sub-Category Page » Product Pages

Remember that your website should be designed with the client in mind.

In addition to product and category pages, your website should have an About page and a Contact page. These pages inform customers and search engines that you are reputable and trustworthy, so don't skip them.

Finally, incorporate a search box into your page. Will it aid in SEO? No, not directly. However, it will assist visitors in finding what they are searching for, which is a crucial aspect of eCommerce optimization so that you can earn more money from the traffic you already have.

Step 2: Enhance User Experience
Now, let's look at a few methods you may improve your site's user experience, which will also help you rank higher in search results.

Increase the Speed of Your Website
It is all about accessibility when it comes to site speed. Visitors will not be frustrated if your site is straightforward to use and everything goes rapidly. This implies they'll be spending more time on your site.

You may speed up your Shopify store by doing the following:
Use a mobile-friendly, fast-loading theme.
make advantage of smaller, optimized pictures
Remove any programmes that you aren't utilizing.
Avoid the use of sliders.
Make use of Responsive Design.
Your Shopify store will look fantastic on any platform, including desktop, tablets, and smartphones, thanks to responsive design.
Responsive themes may significantly enhance user experience and keep users on your site for extended periods of time. Because Google considers time-on-page to be a measure of a site's value, having an easy-to-navigate and read site can help rank. As a result of enhanced rankings and usability, visitors return and conversions grow. Fantastic for an e-commerce site.
It is critical to ensure that your store is mobile-friendly, as buyers increasingly use their smartphones to make purchases.
Step 3: Find the Best Target Keywords
A Shopify SEO tutorial would be incomplete without advice on keyword research, which is the cornerstone of SEO success.
But how can you identify the best keywords to drive visitors to your store?
The simplest approach to get started is to establish a list of at least five major issues that your consumers care about that are directly linked to your product.
Put yourself in the shoes of your consumers. What keywords would YOU type into Google to locate the things you sell?
You may also get ideas for these themes from sources like:
your personal buyer personas
looking for forums and subreddits for your products
hashtags on social media relating to your items
examining the titles, meta descriptions, and picture alt-text on rivals' websites
Step 4: Improve Your Shopify Product Pages
At this stage, you should have a list of keywords and a sensible site structure. The next step is to use your keywords to optimize the pages of your store.
Begin with your most important pages. These are most likely your homepage, primary product groupings, and best-selling product pages. We're talking about the pages that are the most profitable and convert the best.
Even if you're starting a fresh new store, you should optimize your homepage. There are two simple methods for determining which additional pages to optimize:
Pages for the goods that sparked the greatest interest in the run-up to your store's opening.
Pages for items connected to the most frequently searched keywords you discovered (> 10K searches per month)
How to Improve Category Title Tags
Now that you've determined which pages you'll optimize first, let's pick how we'll name our pages across the entire site.
You should employ your keywords consistently, as seen in the following example formula:
Keyword 1 – Shop for Keyword 2 – Store Name
Unicorn T-shirts – Shop for Unicorn T-shirts Online – The Store
How to Improve Product Titles and Meta Descriptions
Following that, we must create titles and descriptions for our items and categories. Yes, you may take marketing text from supplier websites, but unique material will be appreciated by your consumers and SEO.
Your keywords should flow smoothly throughout the content. If they sound odd or are difficult to incorporate into the flow, you may want to reconsider your keywords.
Image alt text may be adjusted for SEO as well, but it must fit organically.
Step 5: Create Links to Your Store
Backlinks are utilized by search engines to judge how well your site is regarded by the larger community. Consider it SEO's equivalent of word-of-mouth. It is an off-page SEO method based on establishing your credibility and trustworthiness.
How do you persuade people to connect to your store? Here are a few pointers:
Links to Suppliers/Manufacturers
If you sell items created or supplied by well-known firms, they may have a policy allowing approved sellers to obtain a connection. Send them an email to see if they will link to your shop.
Voices from the Industry/Influencers
In order to develop both links and content, reach out to industry leaders and influencers for interviews.
Mentions
You might be referenced in multiple places without being linked to. You may locate these mentions by using mention.com. Then, write them an email requesting them to include a link to your site in the mention.
Expired Links
This involves some detective effort to look for broken connections for items and services comparable to those you provide. When you identify one, contact the owner of the site showing the broken link and request that they link to your site instead. Because broken links can harm SEO, this is a win-win situation for both sides; they get to repair a broken link, and you gain a backlink.
Step 6: Improve Your Rankings Through Content Marketing
Now that you've got everything else in order, let's speak about content marketing.
People visit your website for the content. As the owner of an eCommerce site, you may be tempted to economize on content or believe that product descriptions are sufficient.
Trust us when we say that taking the effort to generate original content that adds to your entire user experience will lead to a lot more success.
Choosing what to write about might be difficult, but it doesn't have to be. Make a list of anything your clients ask you or anything you believe they would want to know the answers to. Not product information, but genuine responses.
Your content provides an opportunity for clients and potential customers to get to know your brand in a non-sales-y approach. It's also one of the most straightforward techniques to rank for more keywords and gain more backlinks.
Step 7: Make Use of the Top Shopify SEO Apps and Tools
This section will go through 5 tools and Shopify applications that you may use to improve the rating of your website.
SEO Plugin
Multilingual
As search engines evolve, this page is constantly updated.
Checks your shop automatically and sends you email alerts if there are any difficulties.
This Shopify software assists you in identifying SEO issues that are valuable to address, allowing you to save time and money while boosting your SEO. It checks page titles and headers, meta descriptions, speed, content, article structure, and other factors on a regular basis to ensure that your site is as optimized as possible.
Smart SEO
Reduce the amount of time you spend improving your website.
It does away with the necessity to manually input meta tags or alt tags.
Structured data is sent to Google and other search engines in order to improve search results.
Smart SEO allows you to produce appropriate meta tags for your Shopify store's product, collection, blog, and article pages, as well as alt tags for product photos, without having to make each update manually. Furthermore, the app sends your store's information to search engines using JSON-LD data that is already organized in the way search engines require.
Image SEO Optimizer
Boost traffic from Google image searches
Image optimization may be done quickly and easily.
No coding skills is required.
Images are what sell your stuff, so make sure you have many of them on your site. Of course, high-quality photos may be resource hogs, so you'll want to employ an image optimizer like this one to keep your site running smoothly.
Yoast
Check the SEO strength of all pages and articles and receive suggestions for improvement.
With a single click, you may edit numerous pages.
Google's algorithm is always being modified.
Yoast makes it incredibly simple to optimize your site with the keywords of your choice.
SEMRush
Examine your competitors' top keywords.
Discover which keywords your rivals rank for and which pages on their websites
receive the most organic search traffic.
SEMRush will assist you in locating ignored and underutilized keywords that may be leveraged to enhance traffic and conversions.