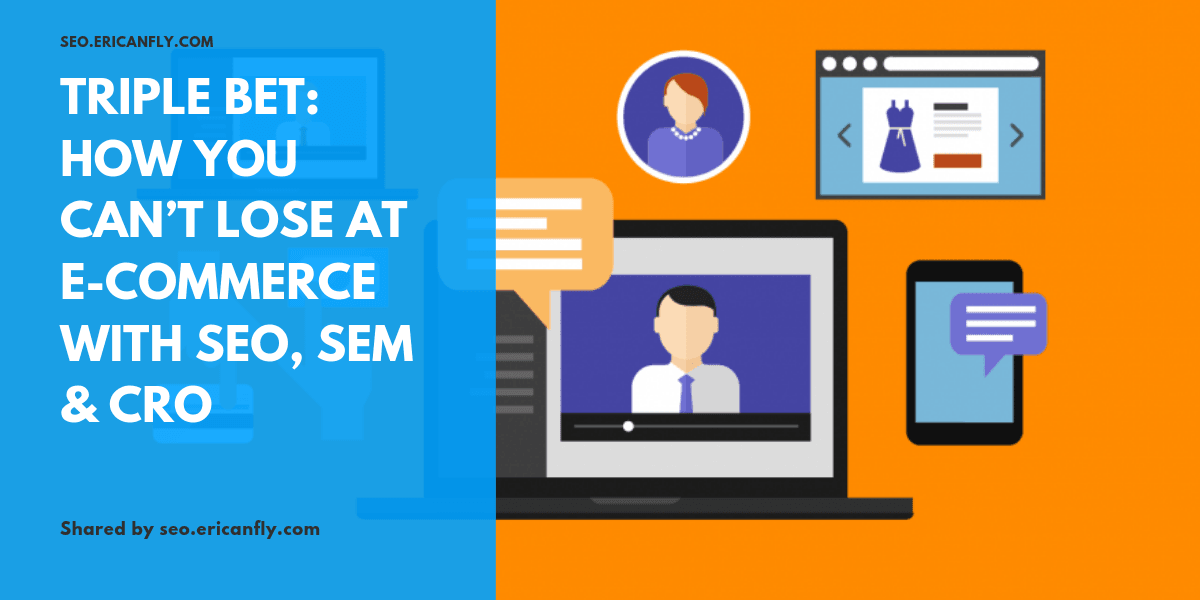 19 Apr

Triple Bet: How You Can't Lose at e-Commerce with SEO, SEM & CRO

The e-commerce world is one that is rapidly growing, and with rapid growth comes tougher competition. This growth results in the need for constant evolution and adaptation to help your store stay ahead of the game.

Fortunately, there are proven strategies you can use to more effectively drive organic traffic to your e-commerce store, run profitable advertising campaigns and increase conversion rates. We went over some of the best strategies in our recent webinar.

We invited Andrey Lipattsev of Google, Elizabeth Marsten of CommerceHub, and Kevin Jones of BigCommerce to share valuable and actionable tips that you could you use to grow your online store and dominate your market. Read on to know what our experts recommend to implement to raise conversions, optimize PPC campaigns for e-commerce and make SEO and content the cornerstone of your e-commerce marketing strategy.

Use SEO & Content to Drive Relevant Traffic to Your Site
Blog content can be used to drive e-commerce sales by attracting customers and pushing them through a funnel; this works by capturing users who are searching for informational content instead of product information and bring this relevant traffic to your site through optimized content. The goal is to then push customers to product pages and encourage sales.
As your content gains new links from outside pages, this will also send relevant traffic back to your site, giving you more customers to nurture through the funnel.
To get the best results from your content marketing, Kevin recommends following several key tips:
Doing quality keyword research. To do this, he suggests using the GSC to find low-hanging fruit opportunities, and to use tools like SEMrush's Keyword Research tool to reverse engineer top-ranking content. You can look for what types of content and queries your competition is ranking for, and use that to create your own competitive content.
Creating long-form content, which will typically beat out shorter content in the algorithms, as it offers more value. To track your results in the SERPs over time, you can use SEMrush's Position Tracking tool.
Keep the featured snippet in mind, as it can get you placed at the very top of the SERPs and get you noticed. Even if a customer searches for "best golf pants" and sees plenty of Google shop listings, the featured snippet of a blog post ranking the best pants will grab your attention most. If you create that post, you determine which pants get the most sales.
Remember to consider semantic search, as voice search is being increasingly popular among users and is directly affecting search best practices. Think of semantic terms that users are likely to say but not type, and keep an eye out for supporting keywords.
Optimize for CTR in the SERPs. You don't just want to rank well; you want to get the clicks, too. To do this, entice the user and make your post look as relevant as possible. You can use the time or year in the title, or use other techniques to help you stand out.
Always be conscious of link building. See if people you know (including friends and colleagues) would be willing to link to your content. You can also try to see if other sites targeting similar keywords would be interested in a guest post. Since you can't always grab that top SERP spot, this is a great way to get relevant eyes on your content. When you get started with link building, Kevin recommends starting with the easy ones. SEMrush's Link Building tool can help you identify those.
If you really want to stand out (which you should), it also helps to go for a multi-medium approach. Kevin recommends creating video content that supplements the blog content. This video can be embedded within the blog post, keeping traffic on your page for longer, in addition to gaining traction and views on its own on YouTube and driving more traffic to you that way.
By following these SEO best practices (and avoiding the most common SEO mistakes), you will be in good shape to drive organic traffic to your site on a long-term basis.

How to Choose the Right Advertising Platform for Your e-Commerce store
Amazon
Amazon, after all, is an incredible entity in and of itself. There are more than 300 million active customer accounts and 90 million people in the US are Prime members. To impress you with even more figures, Amazon made almost 2 billion dollars mostly from ad sales in the first quarter of 2018.
And when it comes to these millions of customers, Amazon knows a lot. They have data on what device type we are using, our basket size, wishlists, search filters, the reviews we have left, and what products we have viewed and purchased. That is a lot of information that can be leveraged to market products to the right consumers.
They make good use of that information, placing ads in relevant search feeds and in front of the right users. They currently offer the following ad types:
Sponsored Products. These ads are broken down into different campaigns and ad groups. You can target keywords, using both multiple match types and negative keywords to ensure the most relevant placements. To qualify to run these ads, you need to be winning the Buy Box, and products with the most reviews will fare better.
Headline Search Ads. These ads work on an auction-based system. Like sponsored product ads, you can create campaigns and ad groups and target by keyword. Unlike the product ads, however, you do not have to be winning the buy box to get placements.
Product Display Ads. Product display Ads are similar to Sponsored Product Ads, but they are featured on the sides of feeds instead of in the search feeds directly.
Amazon's current system isn't quite as complex as Adwords can be, meaning that it can be a little easier to use but more difficult to get the targeting precisely right. Amazon also prioritizes sales velocity, so if you aren't already selling a lot, it may be more difficult to have your ads show up on this platform.
The biggest danger in all of this is that when you are running ad campaigns on Amazon, Amazon is in the auction with you. They do plenty of first-party sales, have their own Amazon products, and have "fulfilled by Amazon" offers; this means that it is in their direct best interest to show the item most likely to sell and make them money.
This is just one way that Amazon is different from other ad platforms, including AdWords and Google Shopping. As Elizabeth reminds us, these are not the same platforms that all work alike. They are similar, but you even should be using different tools to research and structure your campaigns.
Google Express
Google Express, meanwhile, is offering another marketplace for e-commerce buyers. They are taking notes from Amazon, and also offering enhanced shopping actions that make it easier and more convenient for users to purchase with just a few touches; this provides a seamless checkout (which we know is important), shipping updates, and delivery management. It also gives customers all the information they need in one place, creating a much better customer experience overall.
Like Amazon, Google has also created Sponsored Product Listing Ads to show up in the marketplace. In some cases, Google Express itself may be the seller in the individual product ads, but in other cases, there may be other non-Google sellers.
Express listings, however, don't participate in the paid auction. That being said, Shopping Actions on Search sponsored unit may show when there is inventory on Express. If a seller, however, has a product eligible for both, Google utilizes their SKU; this is meant to be complementary and increase the impression share for the products.
All this means that product data is permeating further than we ever thought. Product titles and descriptions matter for potential product ad placements, and prices, reviews, and user behavior will all factor in.
And with a marketplace-like experience, the last question to answer (for now) is who should be tackling these ad campaigns: the marketplace team or the paid search team?
How Marketplace Teams Contribute to Creating Advertising Campaigns
Seller ratings. Google Express and Amazon both have seller and retailer ratings, which can directly influence placements.
Inventory allocation & fulfillment. Marketplaces are acutely aware of inventory allocation, even watching for buffers like safety stock.
Taxes. Taxes affect marketplace sales in a way that the PPC team isn't accustomed to, and they must be taken into consideration.
Marketplace search results & marketplace content. These are two different things, and it's important to understand what content goes where.
How Paid Search Teams Contribute to Creating Advertising Campaigns
Budgeting & spend allocation. PPC experts are typically better equipped to understand how to optimize spend allocation to get the most out of a budget, including split testing.
Conversion rate optimization. Conversion rate optimization for ads is going to look different than writing good product descriptions.
Geographic, audiences & personas. PPC experts often have a better grasp on where customers are and who they are, how they buy, and how they interact with ads.
Search engine search results. These experts can also better piece together how all these factors influence what customers are searching for and how to end up in their search results.

How to Increase Conversions by Decreasing Abandoned Carts
While marketing strategies have many different goals, the ultimate goal that most are building up to is for conversions in the form of sales. With so many e-commerce businesses online it can be challenging to stand out, but having the right systems in place can increase your conversions significantly.
One of those systems needs to be a flawless checkout process. Abandoned carts are a huge loss of potential revenue for e-commerce businesses, and having a difficult or even just a too-long checkout process is enough to get users to jump ship.
When looking at why users are abandoning checkouts, there are two reasons that stand out as significant. The first is that 35% of users abandon a cart because they are asked to create a site account. The second is that 27% of users abandon a cart because they feel that the checkout process is too long or too complicated.
Easier digital wallet payment options can solve both of these problems. GooglePay, Apple Pay, and PayPal are all examples of payment options that are quick, easy, highly secure, and trusted by users.
These convenient and secure payment options are becoming the preferred method of payment for large percentages of customers. In the webinar, Andrey mentioned a real-life case of Hotel Tonight, a hotel booking service: 65% of their customers completed booking with Google Pay rather than traditional credit card payments. As they didn't need to enter extensive credit card and billing information into a website's account to purchase, let alone multiple sites' accounts, they were more likely to get to the final stage and finish booking.
Sources
https://www.semrush.com/blog/triple-bet-how-you-cant-lose-at-ecommerce-seo-sem-cro/