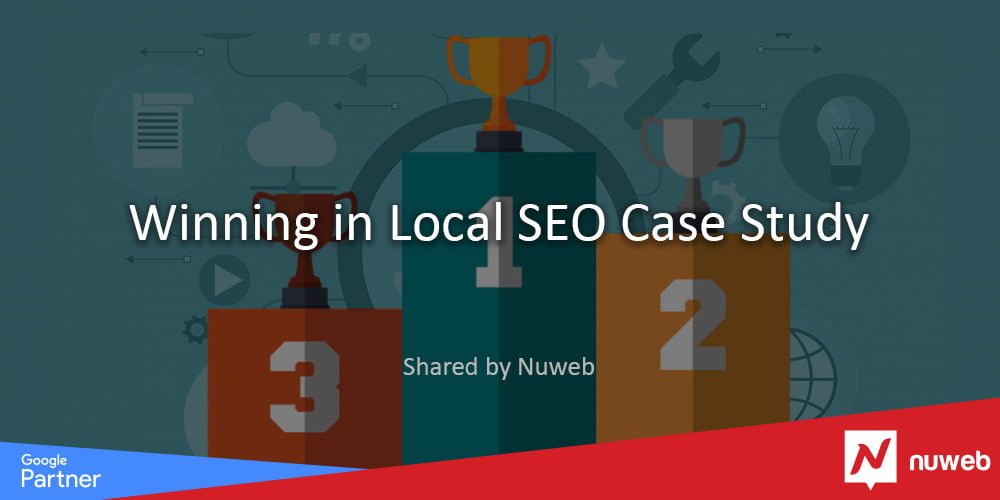 09 Oct

Winning in Local SEO Case Study

Every Local SEO project is different, which means you can't run from an SEO checklist, fix the issues, and move onto the next client. In Local SEO you are dealing with two sets of algos, Organic and Maps; and maps can be fairly tricky because this runs out of multiple data sets and what Annabot (Maps bot) defines as a certain location.

This case study is for a local taxi company in quite a competitive market. With a of population 200,000, around 60 million tourists to the greater area, and two international airports within 30 miles.

The client came to me with a pretty decent organic ranking already for location-based queries. However, the site was not appearing in local pack for actual in city searches; this is a problem for a taxi business that mainly operates in a city.

Sorry, I can't post the domain, but the taxi industry is very cut throat and with Uber encroaching this business needs every edge it has.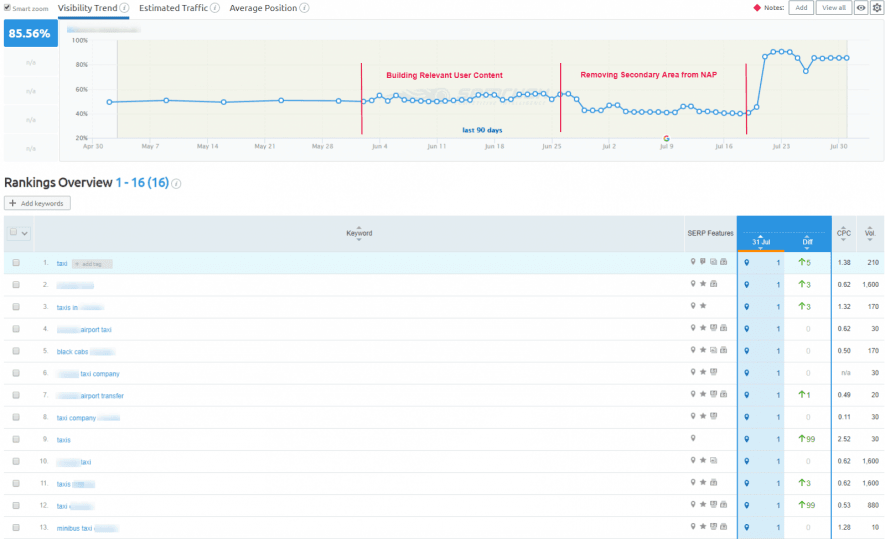 Issues:
After analyzing the site, its current organic positions, and local pack positions (outside city radius), I decided on the following course of action.
On-site Work.
In city location content / guides.
Airport location content / guides.
Changing the NAP (what ?).
Don't you normally look at NAP in local SEO first?.
Normally yes, but in this case, I was removing the area within the city from NAP (I will explain why when I get to this section). Because this can be seen as quite risky (NAP was perfect), I wanted to target every possible search query locally firstly and have the client ranking organically in case this went haywire, and also NAP changes can take a long time to be reflected.
As I said, no two local SEO projects are the same; I was sweating a little with this one. After all, this is someone's livelihood and 12 other drivers.
On-Site Work
The site was doing okay organically, but some fine-tuning was required.
Tel number in <title> – very helpful when users are looking for an instant number to call.
City on page / services.
Restructured top line nav bringing services to the beginning, especially when viewed in mobile.
Service area structured data with geoMidpoint in the City Centre and geoRadius matching Google Business Listing radius.
In City Location Content / Guides
As mentioned I wanted this business ranking organically for every possible search query within the city. Things like Station Taxis, Taxi Ranks, Parking, Wheelchair Friendly Parking, Restaurant Parking, Hotel Parking, literally any person that traveled into the city by car, bus or train could find a taxi in the area organically.
Remember they were not appearing in the local pack for these search queries when inside the city.
Content and guides included written content, we created downloadable Google maps (taxi rank guide has been viewed 170,000 times now), and we used video content from dashcams inside the cabs with shortcut tips around the city.
We also have a full "travel styled" content calendar in full swing targeting tourists, all 60 million of them 🙂
Airport Location Content / Guides
Although not in the city, two international airports are close by and with 60 million tourists a year, airport transfers are very profitable. The airport transfer pages just needed a little more relevant airport content to push it into the local pack which this time was not dependant on being in the city itself. Also, users tend to book in advance and have time to get quotes and search around, so this is not as time sensitive as calling a regular cab.
Content / guides for these pages included (for both airport locations): Main guide to airport, maps to all terminal parking areas (drop off / pick up) short stay and long stay, and detailed info for users wanting to go by train.
We also included off-site long-term airport parking companies and dropped them an email / tagged them in social when live on site. Never pass up an opportunity for a share or link.
Changing NAP
This was quite a unique situation in wanting to change all the address information. This particular business, although 2.5 miles from the city center is in the southern end of the city and roughly 50 meters away from the boundary where a new county begins.
So I corrected the PIN marker to the back side of the building which pushed the location onto a parallel road that did not run through to the next county (state for US readers). Playing with the PIN marker is only really possible with a Service Area Business and still within guidelines because it was on top of the building anyway, just another road.
The part that I wanted removed from the address, was the area: Street Address, Suburb, & City because this road in that area was at the end of this county and the beginning of a new county (state).
Thankfully this business had not fallen into the trap of creating hundreds of crappy directory links and had only used the main aggregators, so within a few days all addresses were reflecting the address change minus the suburb.
We then put all of these into a blog on site and published together with posts on G+ (did I mention G+ is a great way to have a link found quickly). After these changes, the business was appearing within the local pack for almost all main search queries within the city itself.
Job Done
Not quite, although stunning results, I fully expect some fluctuations over the next month, then we can refine and fine-tune pages accordingly. There is also a content plan in place to continue moving the site forward and target all those tourists.
I cannot stress how important it is to talk to the business and understand their needs, hence the back to front way I tackled this project. They could not afford to lose any calls, so we increased their visibility for all local queries to mitigate any loss of calls when we started the address correction.
My advice if you are in the same position, take the time to understand the client's location in maps and how Annabot perceives the city and county lines.
Source: https://www.semrush.com/blog/a-case-study-of-winning-in-local-seo/