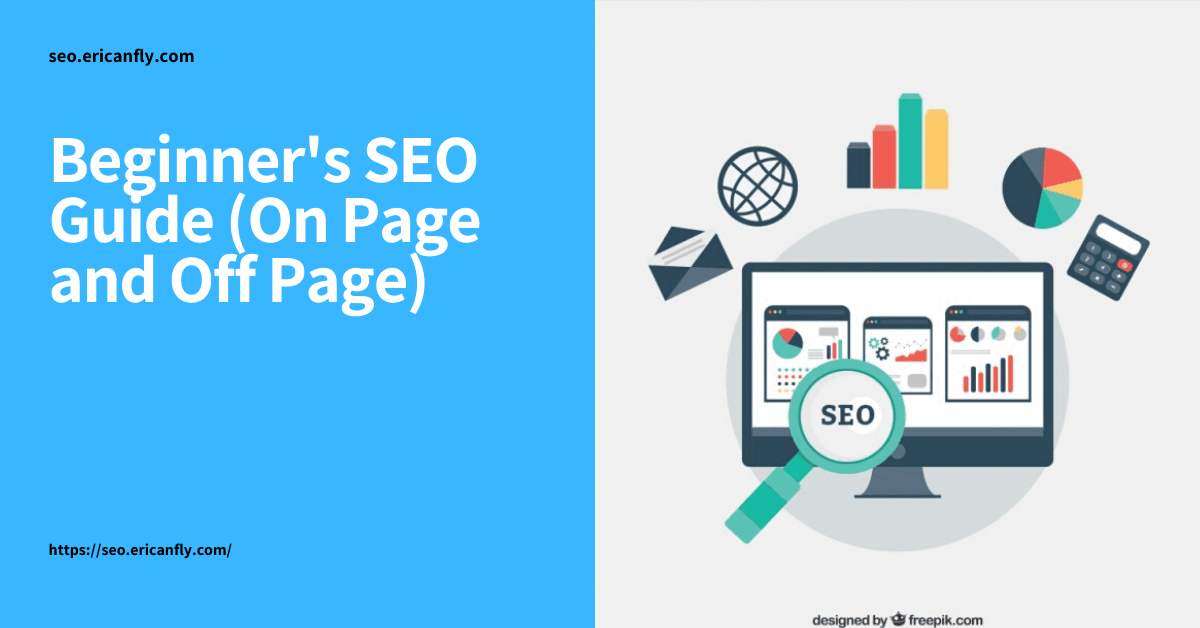 27 Feb

Beginner's SEO Guide (On Page and Off Page)

Seo is the perfect strategy for a wide range of online businesses that relent on search, including Amazon and many other businesses. According to released data and some trusted online research companies, about 80% of internet users today still use search engines to find what they want.

There are two types of SEO for optimizing your website: Off-Page SEO and On-Page SEO. The benefit of SEO is that it can increase traffic and page ranking in search engines, one of which is Google.

Therefore you really need SEO in order for your website to rank first in Google search engines. Here is an article that provides a comprehensive guide to SEO to get the most out of your website.
The Basic Concepts of SEO
Users want the best website relevant to their search to appear on the first page. That's why search engines always want to show the best results for every keyword their users enter. Imagine that your website is at the top of page 2 search engines, so this could be inferred for your traffic not as much as a website on the first page of search engines like Google.
So the essence of SEO is to make your website the best keywords you want. Here are some factors that affect SEO:
(1) The content presented is interesting as well as SEO Friendly
(2) User-friendly structure and navigation.
(3) User Satisfaction (User Experience / UX)
(4) Good and good website popularity.
(5) In this series of SEO guides we will learn how you can be the best of your competitors.
Optional Website Page Components
There are several factors that affect the satisfaction of the website user. We will discuss each of the following categories individually:
(1) Content: This content is the content of our website, how well the information is presented on our website. On the other hand we need to have content that is relevant to what we want to convey to our users.
(2) Keyword: This should be done first, and in addition to the keyword research we did the first time we started SEO, it would also make it easier for us to reach what keyword goals we want to maximize to appear on the first page of Google search engines.
(3) Title: You must choose a title that is relevant to the content of your website. Don't let your clickbait title fool users with irrelevant information on your website.
(4) URL: The URL here can be an address from your website. You need to set up a URL that your users can easily understand and view.
(5) Meta description: is a description that appears on search engines, so it's important to be able to provide services and information about your website pages briefly on Google search engine.
(6) Image media is also one of the things you should be aware of because search engines like Google also have image search that can bring traffic to your website.
(7) Outbound links and Internal links are backlink techniques used to maximize your SEO quality. What matters here is our recommendation from IDcloudhost to provide more inbound links than outbound links.
(8) Social sharing: Who doesn't have social media here, of course? so we can also use social media to share our posts and posts on our blog and website.
(9) Website speed is also one of the factors to keep in mind as not everyone can easily access your website.
Difference between On-Page SEO and Off-Page SEO
Do you know the difference between off-page SEO and on-page SEO? Let's look at the difference between off-page SEO and on-page SEO so you can optimize your website in the search column.
(1) On-Page SEO Techniques
Page optimization or On-Page SEO is an optimization technique carried out on your website with the aim that search engines know if your website is in accordance with what users are looking for with good quality. So, you can optimize your website so that the structure and content that you create can be useful for visitors so that visitors feel welcome.
(2) Off-Page SEO Techniques
Off-Page SEO Technique is inversely proportional to On-Page SEO which is more dominant to the optimization within the web page itself, except from its writing, the Off-Page SEO technique is more towards processing optimization done from the outside, namely by finding backlinks and promoting websites you. When you can optimize both of them, your website will get good results too.
For more details seeking help for SEO? Ericanfly is ready to help you. Please visit https://seo.ericanfly.com/ or call 012-6963011 for FREE SEO Consultation.